Overview of the experimental systems for micro/nano-materials at the Chair CSST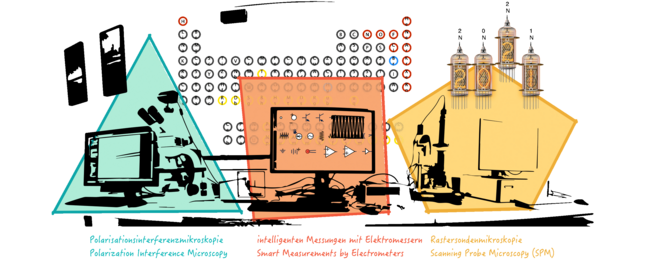 scanning probe microscopy (SPM)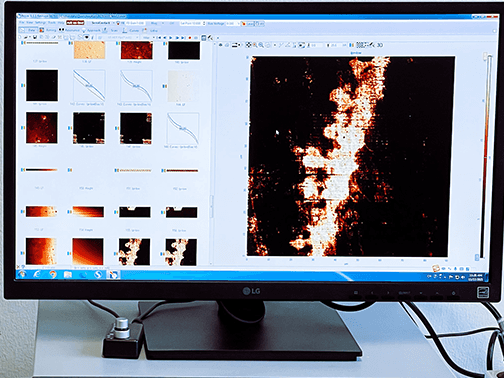 NTEGRA Prima by NT-MDT is a multifunctional Scanning Probe Microscopy. The device is capable of performing more than 40 measuring methods, which allows analyzing the physical and chemical properties of the surface with high precision and resolution. It is possible to carry out experiments in air, as well as in liquids, and in a controlled environment.
With the accompany software Nova, there are several scanning types implemented in NTEGRA Prima: scanning by the sample, scanning by the probe, and dual-scanning. On account of that, the system is ideal for investigating small samples with ultra-high resolution (atomic-molecular level) as well as for big samples and scanning range up to 100x100x10 µm.
The surface conductivity scanning image of a test sample is shown in the right figure.
Smart Measurements by Electrometers and Labview
By communicating with control software such as Labview, Matlab and Python, the Keithley electrometer system is able to perform sophisticated tests simultaneously with other experimental systems such as NT-MDT scanning probe microscopy (SPM).
The figure on the left shows the Labview VI code for controlling the Keithley module 6517b, generating a sequential scanning voltage and reading the real-time current in a test circuit.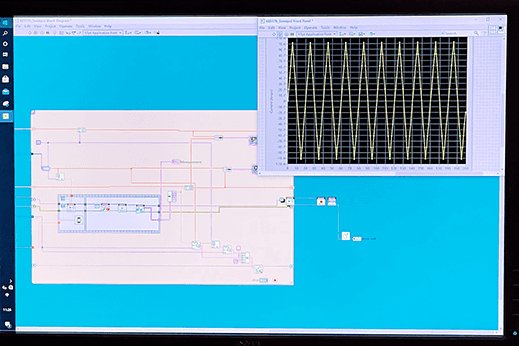 polarization interference microscopy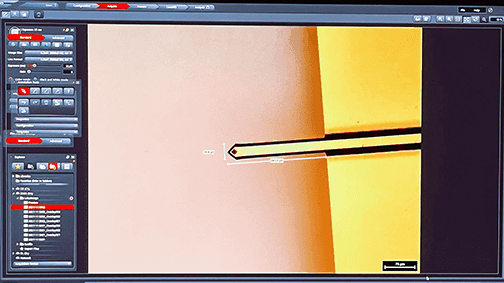 The Leica camera Flexacam C3 is compatible with the latest LAX software. A scanning probe of 40 µm width is captured and labeled in the right picture.
Moreover, the Leica microscopy DM 1750 M is capable of birefringent polarization interference imaging, which is practical to differ the materials by their optical properties.